A Fall Wreath might not be on your to-do list in early September but whenever you're ready I thought you might get a bit of inspiration from mine! I think decorating for a season is best done in layers, like signs of fall outside, my home slowly transitions from one season into the next. I've been burning my fall candle and a couple of days ago put up the front door welcome…
(*please forgive the video ads some of you are getting- I have a new ad network and I'm working on it, they'll be gone soon!)
Remember the wreath last fall, before The Husband built the new door (Tudor Door HERE)? I think a grapevine wreath wrapped in a leafy garland or two makes a lovely (and budget friendly) welcome for autumn.
But when The Husband built the new door, I felt like adding to my fall wreath! So I picked up some fall floral picks and made a little burlap bow and for just a few dollars I updated my leaf wreath!
We hung the wreath with a 3 M Command Hook which worked great, 'cause there will be no nails in this door!
I did a quick video if you want to watch it, showing you how easy it was to update my wreath!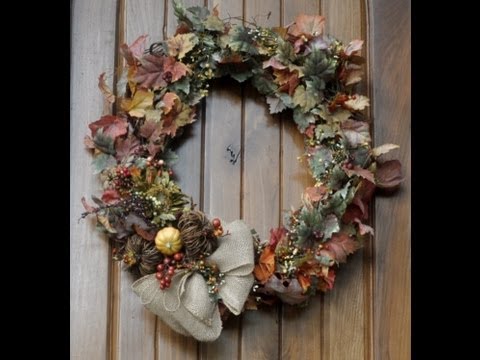 Sending love my friends
xo