A stenciled drop cloth has so many possibilities! Mine is a table cloth! Isn't it ever-so-pretty!?
(Stay tuned…there's a video on this sweet table cloth at the end of the post & a couple of announcements about upcoming shenanigans!)
I saw this table cloth at a conference, Royal Design Studio Stencils had a table set up and they had stenciled this gorgeous table cloth…I fell in mad love with it and when they told me it all started with a drop cloth I knew I had to try it! I asked them to send me some doily stencils and they were so kind…
I love their stencils…they have so many choices…
Something for every taste!
They also have a blog with so many ideas for their stencils! Love this floor cloth!
So much potential!
For my project I used the Catherine Lace Doily…
And the Margaret Lace Doily…
Ya think you might want to do a stenciled drop cloth?
Here's What Ya Need:
* 9×6 drop cloth-Washed and dried *Got my drop cloth at The Home Depot*
*Stencil
*Paint- I used my favorite paint Behr Ultra Premium in a flat sample size (Clear Moon)
*Foam Roller
*Stencil Brush (for the edges of the doily)
*Tape
*Paper Plate & gloves
Tape down the stencil and load your roller with paint…roll some of the paint onto a paper plate to get the excess off of it. Holding stencil in place roll the paint on…load your stencil brush with some paint and get the excess off and in a circular motion paint a soft edge around the doily…(see my video at the end of the post if you want more info!)
I simply placed my doilies here and there and repeated the process until the drop cloth was completely covered…
This drop cloth turned out to be a beautiful table cloth! I'm going to use for a Fall Woodland Theme Baby Shower I'm having in a couple of weeks! The drop cloth along with the doily stencils is a perfect mix of rustic and feminine…
When I finished the drop cloth I realized how adorable it would be for curtain panels or a shower curtain!
This was a really easy project, I've got a little more info in the video and a little about projects I've got coming up in upcoming weeks!
 Sending love
Here's the Video on exactly how I did this and a couple of announcements about upcoming projects!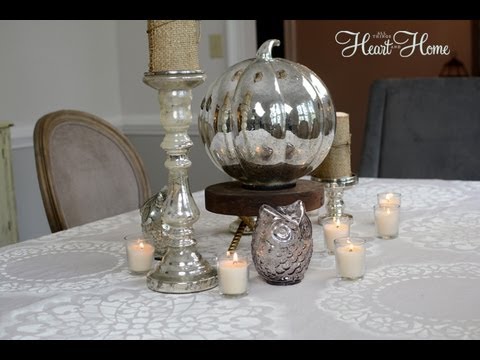 Thanks to my friends at Royal Design Studio Stencils…
xo