You know this little lovable fellow. It's Hermey the Dentist from Rudolph the Red Nose Reindeer! 
For as long as I can remember, Hermey has been spoken about at our house on at least,a weekly basis. I'm not kidding. Why? I'm glad you asked!
It's his hair… 
Me and the girls I birthed have "Dentist Hair" and it's our burden to bear.  Now I've looked through every single photo album in the house and there are hardly any pictures of us with "Dentist Hair". Pictures have been taken, I assure you, but they are destroyed just as quickly as they are printed. Only a few have survived.
 At any given family function you will most assuredly hear one of us say to the unlucky one whose hair product has failed…
"Geeeezzz, you have so got The Dentist going on today."
"Oh my darn Dentist Hair" will most likely be the reply, oooor something close to "Oh my darn Dentist Hair".
Here's my take on why we have the Dentist Hair…
Now, my Dentist Hair was caused when my parent's Gene Pool misunderstood God the Father. what  He said was: "Please get together and give Robin perfect hair."  What they heard was: " …give Robin a cow-lick there."  Sad but true. So I got the mother of all cow-licks right about the place where Hermey has his cow-lick.  
Now, I willed my daughters to inherit this same cow-lick and they did. What? I couldn't go through life being the only real person to bear this burden! After all Heremy's  animated, or claymation, or at the very most an action figure!
 Emma, the baby, didn't get my curly-frizzy hair so she's able to manage her Dentist Hair.  Bethany and Stephanie did get the curly hair and this makes it impossible for them to completely obliterate the Dentist! (Hee Hee!) 
This is a good example of Dentist Hair. Please notice how smug The Husband is…him with his thick silver locks…
          Bethany has a little bit of Dentist Hair going on in this picture. I swear to you she's got full on Dentist Hair, she really does, but even at this age she was a better hair manager than me!  
Stephie's hair is most like mine and this picture just doesn't do justice to her Dentist Hair. But, it's there, you can see the outline of a killer Heremy cow-lick.(please do not point out my very white under-eye area)
And Emma, who really can successfully eliminate the Dentist with a hot blow dryer and some good product, couldn't always control her Dentist. This my friends is proof.  
 So that's the story Morning Glory, of why the girls around here are so attached to Heremy the Dentist…we have the boy's hair.
Could be worse…we could have gotten hair like this furry fellow…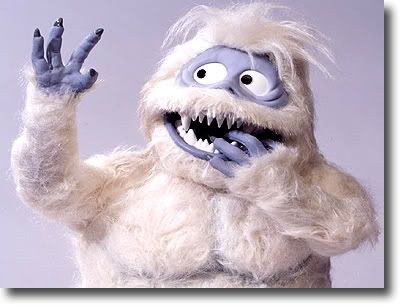 And you're right Vicky…it's TTFN! (Ta Ta For Now!) Sooo…TTFN!