Happiest Twirl & Take a Bow Tuesday sweet friends! The first of this brand new year! How is 2014 treating you so far??? I'm sneezing my way into January, quite under the weather. But it's been a few days so I'm bound to be on the mend, right??? 🙂
For those of you with a blog, I can't wait to see what you've been up to but if you're still coming off Christmas and don't have anything to link up or if you're one of my buds that just loves to look around, sit back-bundle up and be inspired ! xo
Today Brooke has put together our features! Welcome Brooke!
In case you're new to our little shindig, I'm Brooke and I blog over at DesignedByBH.  I share crafts/DIY project, food/recipes, wedding stuff, and musings about our adventures as new homeowners.  I hope you'll join me in my little slice of the blog-o-sphere sometime in the near future!
I happen to LOVE social media, too, so if you're interested, you can find me in all of these places:
But enough about me…let's move on to this week's features!  As always everyone linked up some really great stuff, so choosing was hard!  These are the ones that stood out the most to me…
Don't these Raspberry Chocolate Crumb Bars from i dig pinterest look amazing?  I'll take the whole pan…
With Valentine's Day right around the corner, I couldn't pass up this DIY Valentine's Wreath from twelve o eight.
I absolutely love the colors of this Coastal Colored Curbside Chair from Rustic ReDiscovered.
Yes, "curbside" as in it was once trash…what a makeover!
Who wouldn't love these Cannoli Cream Filled Chocolate Chip Cookie Cups from Bakewell Junction?
If you're a blogger looking to get organized for the New Year, take a look at this Blog Planner from Designed Decor.  I've already personally printed some of it out!
 Now on to this week's party!
Take a moment and visit all six hosts for the Twirl & Take a Bow Party…
You'll be glad you did!
If you were featured, be sure to grab a button from my sidebar!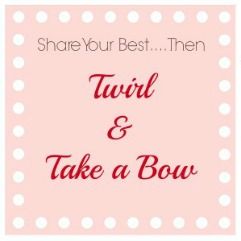 Now let's party…
Twirl & Take a Bow Party
*We would love for you to follow us!
*You must link directly to your post.
*In order to be featured, you must link back to a host blog using a link or the party button found on the sidebar.
*Only home decor & design related crafts, DIY, how-to's, decorating tips, etc. You get the idea!
*Visit one other party link. Share the love and the inspiration!
*No links to shops, Etsy or giveaways.
*By linking up your post, you are giving House on the Way, Deja Vue Designs, All Things Heart and Home, Designed by BH, Art is Beauty and A Few Miner Adjustments permission to use a picture as a feature on their blog and other social media outlets.
Each week we will also be featuring a few outstanding inspirations from the week before.