Welcome to Twirl & Take a Bow Tuesday sweet friends! Have you been enjoying the season- making cookies, decking the halls and spending time with friends and family? I hope so! If you have a minute, link up or look around for a little inspiration~ Welcome to my friend Tammy who picked out the features for this week!

Hi! My name is Tammy….and I'm an addict!
I blog over at Deja Vue Designs… I'm a stay at home wife and addict!!

I'm addicted to:
God, Husband, Children, Grand children, Art, Gardening, Up-cycling and Blogging!
God of course is FIRST and FOREMOST in my life.  I'm not perfect….but he's not through with me yet!
I have Loved art and Gardening since I can remember!  When I was about five, my mother gave me my own little spot in the garden….and that flame was forever lit!
My husband and I raised four children….three boys, and the youngest…The PRINCESS! They were a his mine and ours situation.  Together they have given us five BEAUTIFUL, PERFECT, WONDERFUL Grandchildren.
I LOVE LOVE LOVE taking old, used up items, that no one else wants and breathing new life into them.  Usually giving them a new look….and a new purpose….hence the statement and name of my blog!  I hope to see all of Y'all over at my place!
I've been Loving all these amazing projects every week.  It's been so difficult to decide which would be my favorite.  That said…I had a really hard time.  I think I could have had ten on here.  I narrowed it down to five….
The first one…is this AMAZING looking recipe from Savory Experiments.  This White Chocolate Cranberry and Pistachio Bark.  You had me at chocolate…and pistachio! 😀
I really don't know if anyone else in the family would get any of this.  This is definitely a MUST TRY recipe!
My second choice…is from one of our very own.  Karin from Art is Beauty…did an AMAZABALLS job on this table.   I just think it turned out STUNNING…don't you?  There is just something about a dark brown…and blue of any kind, that just makes my heart sing, like the angels from heaven…and those of y'all follow me…probably know…I can't carry a tune in a bucket!
This little darling….is a dumpster dive special…MY CUP OF TEA!!! WOOT…go see how it came to be!
 Dear Creatives made this most adorable utensil Holder.  When you combine burlap and lace….well…you just say perfection to me!  Theresa…made this simple and easy tutorial look so awesome!
No feature, this time of the year, would be complete with out having a Christmas Mantel.  I love the Winter season, for all the festive Christmas decor.  This darling mantel is no exception.  Be sure to visit Fort Ledbetter…and see this beautiful Mantel.
I love these mantels that you can see all the way through…don't you?
Laura from Pet Scribbles…has never failed to amaze me with her creativity.
I'm sort of partial to this project…A.  Because it's Laura's, and   B. because  she used vintage seed packages.  At any rate, she just dolled them up Perfectly!
There were so many more that I could have chosen…but we have to stop somewhere.
Well, that's the features…so now…let's get this party started!
https://www.dejavuedesigns.com/?attachment_id=8289
www.dejavuedesigns.com
Take a moment and visit all six hosts for the Twirl & Take a Bow Party…
House on the Way, Déjà Vue Designs, All Things Heart and Home, Designed by BH, Art is Beauty and A Few Miner Adjustments.
You'll be glad you did!
If you were featured, be sure to grab a button from my sidebar!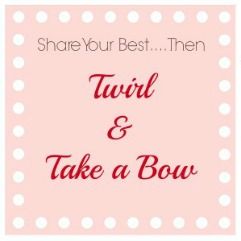 Twirl & Take a Bow Party
*We would love for you to follow us!
*You must link directly to your post.
*In order to be featured, you must link back to a host blog using a link or the party button found on the sidebar.
*Only home decor & design related crafts, DIY, how-to's, decorating tips, etc. You get the idea!
*Visit one other party link. Share the love and the inspiration!
*No links to shops, Etsy or giveaways.
*By linking up your post, you are giving House on the Way, Deja Vue Designs, All Things Heart and Home, Designed by BH, Art is Beauty and A Few Miner
Adjustments permission to use a picture as a feature on their blog and other social media outlets.
Each week we will also be featuring a few outstanding inspirations from the week before.