Welcome to Twirl & Take a Bow Tuesday! I'm so happy to be choosing the features for this glorious holiday week!
I'm Robin from All Things Heart and Home
I'm passionate about my home because it's a way I can show love to my friends and family~I'd love to hang out with you on Facebook, Twitter, Pinterest, Google+ & Instagram~ let's encourage each other to find inspiration for what matters most…
This week I picked out a few categories, all having to do with Christmas!
1- Newly Wed Christmas Ornament ~ Posed Perfection
2-Twelve Oaks Manor ~ Dollar Store Hurricanes!
3-The Colored Door ~ Pom Pom Wreath
1- O Taste & See ~ Caramel Apple Cider
2- Culinary Flavors ~ Easy Milk Pie
3- Food Folks & Fun ~ Chocolate Peppermint Roulade
Now, without further ado, it's time to link up your latest and greatest, and Twirl & Take a Bow!
Take a moment and visit all six hosts for the Twirl & Take a Bow party~
You'll be glad you did!
If you were featured, be sure to grab a button from my sidebar!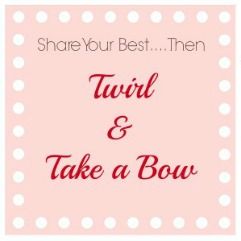 Now let's party…..
Twirl & Take a Bow Party
*We would love for you to follow us!
*You must link directly to your post.
*In order to be featured, you must link back to one of the host blogs using a link or my button found on their sidebar.
*Only home decor & design related crafts, DIY, how-to's, decorating tips, recipes, etc. You get the idea!
*Visit one other party link. Share the love and the inspiration!
*No links to shops, Etsy or giveaways.
*By linking up your post, you are giving House on the Way, A Few Miner Adjustments, All Things Heart and Home, Deja Vue Designs, Designed by BH and Art is Beauty permission to use a picture as a feature on their blog and other social media outlets.
Each week we will also be featuring a few outstanding inspirations from the week before.