Happy Spring, everyone!  It's time for another great week of Twirl & Take a Bow, and this week it's my turn to pick the features!  For those of you that don't know me, my name is Brooke and I blog over at DesignedByBH.
So what's your favorite part about spring?  I know it probably doesn't feel like spring yet for all of you, but it's coming!  Do you plant a garden or flowers?  My husband and I are in our first house, so that's something we get to experience this year–at least at our own home.  He's a professional landscaper so it's nothing new for him!  He has big plans…boulders, flower beds, new mulch…it will be nice once we're he's done!
My favorite part of spring has to be the colors.  It's definitely not the heat.  Being hot makes me grumpy…but the start of baseball, cute dresses, flip flops, pedicures, flowers, and butterflies…those are all a win!  You know what else is a win?  You guys and your projects!  I can't wait to see what you have to link up this week.  In the meantime, here are some of my favorites from last week…
Facebook/Twitter/Pinterest/Google+/Hometalk/Bloglovin'/StumbleUpon
I don't get to eat it enough, but I absolutely LOVE Greek food,
so I couldn't pass up these delicious looking
Dolmades Gialatzi from Culinary Flavors!
(I'm about to eat the picture!)
How fun (and springy!) is this Hanging Test Tube Planter from Hearts & Sharts?
 I'm super fascinated by this DIY Industrial Toilet Paper Holder from trekkiemom.
Finally, I'm digging this DIY Spring Decor collection from I Dig Pinterest!
Now let's get on with this week's party!
Take a moment and visit all six hosts for the Twirl & Take a Bow Party…
House on the Way, Déjà Vue Designs, All Things Heart and Home, Designed by BH, Art is Beauty and A Few Miner Adjustments.
You'll be glad you did!
If you were featured, be sure to grab a button from my sidebar!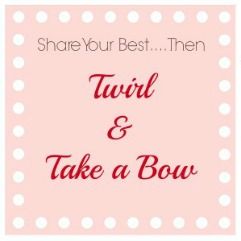 Twirl & Take a Bow Party
*We would love for you to follow us!
*You must link directly to your post.
*In order to be featured, you must link back to a host blog using a link or the party button found on the sidebar.
*Only home decor & design related crafts, DIY, how-to's, decorating tips, etc. You get the idea!
*Visit one other party link. Share the love and the inspiration!
*No links to shops, Etsy or giveaways.
*By linking up your post, you are giving House on the Way, Deja Vue Designs, All Things Heart and Home, Designed by BH, Art is Beauty and A Few Miner Adjustments permission to use a picture as a feature on their blog and other social media outlets.
Each week we will also be featuring a few outstanding inspirations from the week before.