Happiest Twirl & Take a Bow Tuesday! We've got some great features for you today and I can't wait to see what you have been up to these past few days!  Is it spring time where you are??? I don't think I've ever enjoyed the sunshine and budding trees quite as much as this year! That's what a rough winter will do isn't it…make you long for the sun?
And speaking of springtime, I have collected inspiration from all over and pinned it to my Pinterest board: All Things Spring … If you're on Pinterest, I think you'll find something to get your creativity going!
HERE
But for now, here's my bud Tammy with today's features!
I'm so glad Y'all are all here!
Hi Y'all!  If you aren't familiar with me…I'm Tammy from Deja Vue Designs!  I get the pleasure of hosting Twirl and Take a Bow each week with my amazing and talented co-hosts.  I always look forward to my turn to select features, but then I have a difficult time picking from all the amazing projects that get linked up.  Y'all are so creative.  I do have to stop somewhere though.  If you've never been to Deja Vue Designs….I hope you'll head over and snoop around!
I found this adorable project linked up last week. Peter cottontail chalkboard from Priscillas!  I love chalkboards anyway, but I just love that when Easter's over…she can start again..and it'll look completely new!   She is absolutely amazing at chalkboard art! The best thing is…it's a garage sale find! Y'all know me…that's right up my alley!…LITERALLY!

We all have to sit…especially when we're surfing the internet!  I've been meaning to get around to making my office chair look pretty…now, I can do that with this amazing little make over!  What a fabulous job Andrea from Bacon Time With the Hungry Hypo did!


I fell in love with this "flower bed" from Penny's Vintage Home. I do believe, she found the perfect shade of pink!  How stunning is this little girl?


I couldn't do features, and let these amazing vignettes by Ramon from Row House Events and Interiors slip past us.  He did a fabulous job!  You really have to go over to his site…and see all of them! FAB-U-LOUS!


There were several lovely recipes in the party this week.  I struggled with this, and decided finally…since warm weather is coming…to share a drink recipe link…actually several.  Connie from Family Home and Life shared 10 Fruity Drink Recipes with us.  They looked so good…I couldn't pass them up!


Last, but very certainly not least, I found this amazing looking recipe for Red Lentil & Bulgur Patties from Lydia's Flexitarian Kitchen. I love making new and unusual dishes.


I hope you enjoyed the features this week!  Y'all link up…and have fun snooping through the other talented posts.  I'll hope you'll take this opportunity to head over to Deja Vue Designs, and see what other things you can find on my site!
      You can find me all these ways…
Take a moment and visit all six hosts for the Twirl & Take a Bow Party…
House on the Way, Déjà Vue Designs, All Things Heart and Home, Designed by BH, Art is Beauty and A Few Miner Adjustments.
You'll be glad you did!
If you were featured, be sure to grab a button from my sidebar!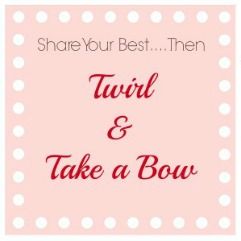 Twirl & Take a Bow Party
*We would love for you to follow us!
*You must link directly to your post.
*In order to be featured, you must link back to a host blog using a link or the party button found on the sidebar.
*Only home decor & design related crafts, DIY, how-to's, decorating tips, etc. You get the idea!
*Visit one other party link. Share the love and the inspiration!
*No links to shops, Etsy or giveaways.
*By linking up your post, you are giving House on the Way, Deja Vue Designs, All Things Heart and Home, Designed by BH, Art is Beauty and A Few Miner Adjustments permission to use a picture as a feature on their blog and other social media outlets.
Each week we will also be featuring a few outstanding inspirations from the week before.